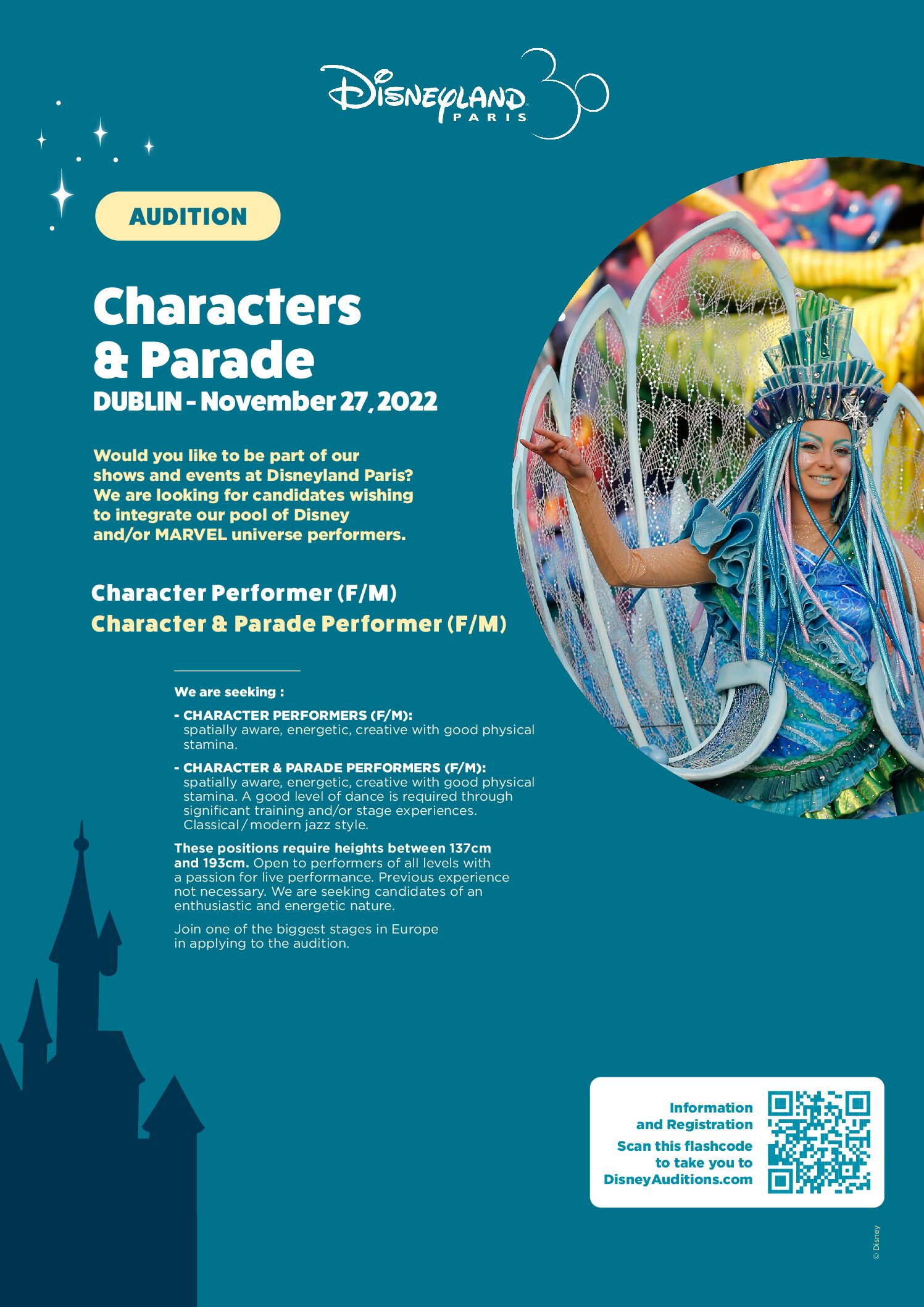 Title:
Character and Parade, Disneyland Paris
Production Dates:
27th November 2022
Company:
Disneyland Paris
Summary:
PARADE AUDITIONS – DUBLIN (IRELAND) – NOVEMBER 27th 2022
Would you like to be part of shows and events at Disneyland Paris? Disney are looking for candidates wishing to integrate into their pool of ©Disney and/or MARVEL universe performers. 
They are seeking
> CHARACTER PERFORMER (F/M): spatially aware, energetic, creative with good physical stamina.

> CHARACTER & PARADE PERFORMERS (F/M): spatially aware, energetic, creative with good physical stamina. A good level of dance is required through significant training and/or stage experiences. Classical/ modern jazz style.
These positions require heights between 137cm and 193cm.
Are you dynamic, creative, meticulous and punctual; do you love being part of a team in a multicultural environment?
If you are drawn to the artistic world, your experience in animation, dance or acting could enable you to be part of their magical experiences which make dreams a reality for guests. 
Join one of the biggest stages in Europe in applying to one of our auditions

Contract type
These positions are open for short-term and open-ended contracts.
Contract start dates available through a six-month period following the audition.
Short-term contract lengths are for a minimum of 4 months.
Housing possibilities are available.
Successful candidates requiring a Visa to work in France will be informed of the necessary application process. 
These positions may include some night work and are subject to French law which requires candidates to be 18 years of age to legally work in France in accordance with the protection of young workers. 
Audition Process
· STEP 1 –
Prior to arriving at the audition venue, please visit HERE and click "My Profile" to create a performer profile. This only takes a few minutes and will save you time on the day of your audition. 
· STEP 2 –
On the day of the audition, one the Disneyland Paris representatives will be present between 12.00pm and 12.15pm at the entrance of the building to greet you. Additional information will be given on the day.
Candidates may be asked to stay until 8.00pm (at the very latest)
You will not be asked to prepare any audition material prior to your arrival.

When and Where
SUNDAY 27th November 2022 at 12.00pm
LIFFEY TRUST STUDIOS, Liffey Trust Centre, 117-126 Sheriff Street Upper, North Dock, Dublin, D01 HW96
Please note that any travel expenses incurred will not be covered by Disneyland Paris
Recommended attire:
· For the audition, please wear comfortable clothing (to participate in a movement sequence).
· Minimal personal belonging (the changing rooms will be inaccessible)
· The audition will take place in small groups in adherence to the social distancing recommendations. These may vary, depending on the activity that is taking place and the size of the audition room. We would like to thank you in advance for your patience should there be any delays. This could potentially occur due to the cleaning of the dance studio between each group.
· Should you arrive early, you will be asked to wait outside the building until invited inside by one of the Casting Team or representatives.
· If you are accompanied by friends or family, they will not be permitted to enter the building and will therefore need to wait outside.
· We ask that you follow the safety instructions given by the Casting Team or representative welcoming you upon your arrival.