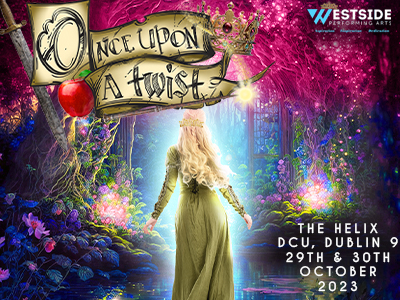 Returning to The Helix is our trade mark show of two halves. Act 1 is a celebration of music from Broadway, The West End and the Silver Screen. In Act 2 its Snow Bright's first day at The Fairy Tale Academy and she must choose where she belongs.
While navigating the magical world with her new found friends she feels the wrath of Maleficent and her sidekicks. Soon they all learn, with a little help from The Fairy God Mother, if they don't follow their individual destinies and try to live in harmony their stories will disappear forever. A feel good tale that will remind you that the most important thing you do is to be yourself.
October 29th & 30th 2023 – 1.30pm and 7.30pm Tickets www.thehelix.ie
A Stage full of talent
Our classes provide numerous benefits for children who sing, dance, and act on stage. Not only do they develop strong coordination, flexibility, and stamina, but they also enhance their creativity, self-expression, and confidence. Through collaborative rehearsals and performing on stage, students learn teamwork, discipline, and perseverance, skills that will benefit them in all areas of life.
We invite you to join us for this spectacular event and witness the hard work and dedication of our talented students. The performance will leave you inspired and amazed.
Don't miss out on this opportunity to support our young performers and celebrate the power of Performing Arts. Get your tickets now and be a part of an extraordinary event.
October 29th & 30th 2023 – 1.30pm and 7.30pm Tickets www.thehelix.ie