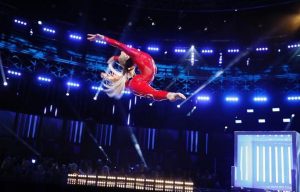 Westside are ecstatic to announce that we will be hosting Ireland's Exclusive Masterclass with the amazing BRIAR NOLET.

Currently on The Next Step Live UK and Ireland Tour Briar, an award-winning contemporary dancer who was one of The World of Dance Season 3 finalists, has most recently been a featured soloist and dancer on JLo's It's My Party World Tour.
Canadian Dance Company
Briar trained at the outstanding Canadian Dance Company, where our very own WestSider Mollyanna was excepted to and had the fantastic opportunity to train for Transition year. She was welcomed with open arms and made part of the CDC family. Briar is an extremely hard working , determined, talented Dancer who is such an inspiration to all Dancers around the world. We are so excited and beyond words to welcome her to WestSide!
FULLY BOOKED
Friday November 1st 2019
3pm to 5pm in Studio 4
Westside Students (only) Age 12+https://www.instagram.com/p/B4VPMxVgFEn/
https://www.instagram.com/p/B4VPMxVgFEn/