Kaeylea B. VanKeith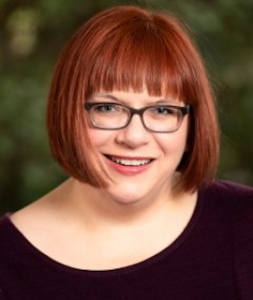 Kaeylea B. VanKeith is a singer, singing teacher, vocal coach, musical director, composer, lyricist, pianist and clarinetist. Born in New York, Kaeylea currently resides in County Kildare.
Kaeylea is an Estill Voice Training Certified Master Teacher. The Estill Model is the standard for Voice Training in the top Musical Theatre training colleges in the UK and America, and on West End and Broadway stages.
In addition to her busy private teaching studio, Kaeylea has worked as a vocal consultant for Universal Records, Warner Music and Island records
as well as for numerous independent artists, labels and songwriters. In 2016 she was asked to be the vocal coach for Ireland at Eurovision in Stockholm, Sweden and in 2018 coached the Eurovision artist from the Czech Republic.
Kaeylea earned a B.Mus (Hons) at the Peabody Institute of Music at Johns Hopkins University in Baltimore, Maryland and continued her studies as a post-graduate student at the St. Louis Conservatory of Music and Northwestern University in Evanston, Illinois. Kaeylea also trained in the Conservatory program at The Acting Studio in Hollywood, Florida.
Kaeylea is a music examiner for the Royal Irish Academy of Music and is the compiler of the new RIAM Syllabus for Musical Theatre & Popular Singing exams, effective 2019.
As part of her continuing professional development, Kaeylea attended a course in 'Laryngeal Manipulation & Osteopathy' at the Deutsche Stimmklinik in Hamburg, Germany, training with renowned Osteopath Dr. Jacob Lieberman and ENT/Laryngologist Professor Markus Hess. She has also participated in a video endoscopy research project on vocal function with singing teacher colleagues and Professor Hess in Hamburg.
Kaeylea has also attended workshops in the UK with ENT/Laryngologist Dr. John Rubin, covering topics such as vocal health, common problems and pathologies; courses on the Developing Voice as well as The Aging & Menopausal Voice with Speech & Language Therapist Kiereen Locke; and Breathing, Support & the Estill Model, utilizing sonogram machines, with Specialist PhysioTherapist Ed Blake and Professor Anne-Marie Speed of The Royal Academy of Music.
Kaeylea has extensive performance experience in concert halls including the Kennedy Center in Washington D.C. and Tchaikovsky Hall in Moscow, as well as in musical theatre, folk gigs and with big bands throughout the United States, as well as internationally. Kaeylea has performed with, among others, Joni Mitchell, Kristin Chenowith, Bernadette Peters, Marvin Hamlisch, Joel Grey, Linda Eder, Barbara Cook, Mel Torme and Placido Domingo.
She has also performed with the St. Louis Symphony, Baltimore Symphony, New World Symphony, Florida Grand Opera, Florida Classical Orchestra, Miami City Ballet, Royal Ballet, Bolshoi Ballet, Ballet Florida, Palm Beach Opera, Young Victorian Opera Theatre, Seaside Music Festival, Bristol Music Theatre, Pine Mountain Music Festival, and the Aspen Music Festival, among others.
As a singer-songwriter Kaeylea was awarded a B.E.A.M grant – BenefitingEmerging Artists in Music – from Jim Beam whiskey and has been heard on radio and tv, including National Public Radio, National Public Television and the Discovery Channel.
Kaeylea is composer/lyricist of "Sisters!" – A New Irish Musical, with book/lyrics by Tracy Ryan. "Sisters!" was a winner of the Musical Theatre Initiative at London's Theatre Royal Stratford East in 2013 and 2014. "Sisters!" has also been workshopped in Florence, Italy and is scheduled for a full production in Florence in late 2017, with dialog translated into Italian and songs sung in English. We hope to have workshop performances in Ireland in 2017.
Other composing credits include documentary soundtracks and sound design for the British Museum, London; National Museum of the Royal Navy, Portsmouth; and Athlone Castle Museum, Ireland.
Kaeylea is delighted to join the talented team of teachers and students at Westside!