Anna Gonzalez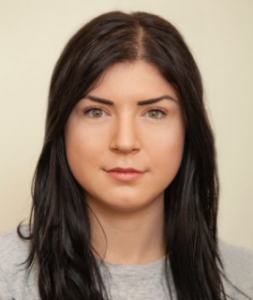 Anna is a Northern Irish Actor, Voice Over Artist, Singer, Vocal Tutor, Musician, and Facilitator working between Ireland & the UK.
A graduate from the Gaiety School of Acting Full Time Professional Acting Training programme, Anna is registered with Trinity College London (Singing, Violin, & Traditional Fiddle) and Facilitate NI, where she holds her NI Arts Facilitation Training certificate. Her previous training also includes the prestigious scholarship programme Drama Studio (in association with Arts Council NI & Lyric Theatre Belfast) and training with Michael Corbidge (Voice & Dialect Coach of the Royal Shakespeare Company).
As a performer her credits include: Mary Brenhamin Our Country's Good (Lyric Theatre Belfast); Mariannein The Miser(directed by Aoife Spillane-Hinks); Whose Feet?(GPO Witness History in association with Animated State Dance Theatre Company); Angeloin Measure for Measure(directed by Liam Halligan); Motherin A Crucial Week In The Life of a Grocer's Assistant(directed by Paul Brennan); Mrs. Malapropin The Rivals(directed by Gene Rooney); Battyin Below Below(directed by Raymond Keane, a new play by Fionnuala Gygax at Smock Alley Theatre 1662); and Hannahin the Short Film Park Life(Bodecii Film, directed by BAFTA award-winning Director Laura Way).
As a musician Anna is involved in numerous musical projects as a session musician, recording artist, commercial vocalist, song-writer, and collaborative artist.
Anna is a passionate advocate of Youth theatre and Youth arts, taking her role as Facilitator very seriously in nurturing the talented pupils at Westside, whom she regards wholeheartedly as the future of Irish Theatre and the Arts.